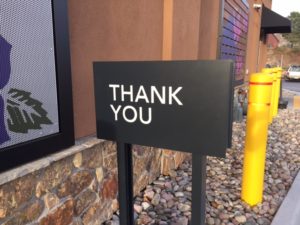 One of the delights of my career with the Dalit Freedom Network was driving our Indian leaders to speaking engagements around the US. (The Dalit Freedom Network raises awareness and funds for Dalit schools, community health workers, etc. The Dalits were formerly called the Untouchables.)
On one such trip, Kumar and I pulled into a fast food joint for a quick meal. At the counter, Kumar turned to me and said, "I love this country. Did you see that young lady that handed us our food? She smiled at me and said, "THANK YOU, sir." And see that trash can over there? It says THANK YOU just for putting my trash there. And see that sign outside? It says THANK YOU just for coming to their restaurant."
(And I was feeling guilty about taking him to a fast food joint.)
What a lesson. So much of gratitude is choice. I had to agree with Kumar. We do have a wonderful country. We have trash cans! In India, waste is piled on corners two stories high. And not only do we have trash cans, we have trash cans with built-in thank you notes. Smile about THAT next time you toss your trash!
I know people who "have it all" who are crabby and petty. And I know people who have "lost it all" who are gentle with beautiful, grateful hearts.
Today, let's be thankful for the obscure AND the obvious, from trash cans to treasured friends and family.
Happy Thanksgiving to you!