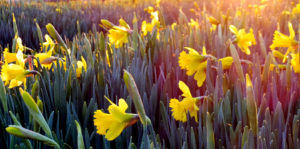 OH, THE TIMES THEY ARE A CHANGIN'
Hi everyone! I'm in the throes (good throes!) of writing a new book, so my blog posts for the next few months will be excerpts from my book, "A Pocketful of Seeds." They'll be called Weekly Seeds. Enjoy.
COMMIT (excerpted from the March 12 entry in "A Pocketful of Seeds")
On life's journey, don't necessarily jump ship when something doesn't go your way, because something won't go your way—guaranteed. That being said, sometimes we need to make a change for legit reasons, but if we're just bored…nah.
To use a gardening analogy (now that we're starting to see spring daffodils push their way through the soil), we need to hang in there and commit to the tedious process of seed-planting, watering, weeding, waiting. You know, commit to life's tasks.
If you're wavering on a commitment, check your motives. Then re-commit or let it go for the right reasons.
"Trust in the Lord and do good; dwell in the land and cultivate faithfulness." Psalm 37:3