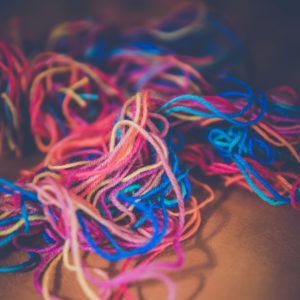 Last week as part of my "selah" (break), I went to a writing group session. It's ironic that my one-week break from writing meant more writing. Ha!
Anyway, I love gathering around Anne Randolph's kitchen table with other writers and digging in. (Thank you, Anne!) Her prompt was this line: to untie every knot.
So here's the image God put on my heart.
I sit with piles of yarn at my feet. Some are blobs of brilliantly-colored threads, messy but blessedly loose. I love those blobs. Look! There's the blob that was my "clean-house-compulsion" knot. And over there is the blob that was my "carry-the-guilt" knot.
Beautiful piles that used to be knots.
Mixed in with the blobs are knots. Some are your run-of-the-mill knots like politics or bronchitis. That one there is a knot beyond my control, not mine to unravel but at my feet nonetheless. Others seem to breathe and tighten like a boa constrictor of intertwining, squeezing threads, intent on death. Still others are meant to be shared. (When one member of the body suffers, all suffer.)
Beautiful blobs and Gordian knots. I smile at the blobs, but I train my attention on a particularly impossible knot. I'm looking for that elusive frayed end that will untangle the whole thing.
Isaiah 58:6. "Is not this the kind of fasting I have chosen: to loose the chains of injustice and untie the cords of the yoke, to set the oppressed free and break every yoke?"
To untie every knot…
For a long time, my eyes search the knot for that elusive thread. I almost give up.
Then, in my peripheral vision, I see some sawdusty feet in sandals walking my way. They stop nearby. A calloused hand reaches over, fingers tugging on the end of thread I hadn't seen.
"Here. Try this one."
I weep.