Note from Debbie: From time to time, I'll be posting words of wisdom from guest bloggers. I know you'll be inspired by their stories. Today's post is from a friend I highly respect. He was born with cerebral palsy, but that's not what defines him. Read on to see what I mean. This is a condensed excerpt from his upcoming book entitled "Lessons Learned from the Bottom of the Stairs."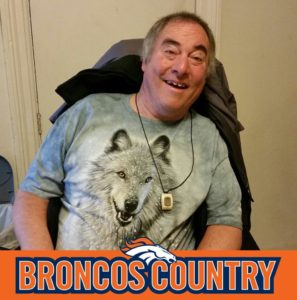 My name is Randy Milliken.
I want to tell you my story through some stories from the bottom of the stairs—the stairs at Open Door Fellowship in Denver, Colorado. At Open Door, church services were held on the third floor. When I first arrived there in the mid-80's, I was on crutches and able to carefully climb the stairs to the third floor by creatively hanging on to my crutches in one hand and the rail on the other side. As I've gotten older, I've gotten weaker. I'm now 59 years old and I depend on an electric wheelchair, but fortunately, Open Door now has an elevator!
After the ramp to the church was taken out to create space for another room, there was an "open door" for the possibility of an elevator. God can bring opportunity if and when we trust him completely through the sanctification process, in contrast to one's pride and self-reliance.
But before the elevator (and when I could no longer ascend the stairs on crutches), I would sit at the bottom of the stairs with the door slightly open to listen to Andy Cannon (our pastor) preach. I love hearing his sermons so much! It was often very, very cold. I gained a greater empathy for those who actually live and sleep in the frigid cold.
Open Door ministers to street people, inviting them out of the cold, offering them a cup of coffee and a warm place to sit and hear the gospel. It also offers them help through its programs.
I witnessed how often the poor with very short attention spans descended the stairs every few minutes, even while Andy was preaching, just to get a few puffs from a cigarette or take a phone call, then grab more coffee before going back upstairs. At first, I didn't identify with street people, but as time went on, I realized that in a sense, we're all sitting at the bottom of the stairs.
Sitting there inspired me to think about life on Earth and how Jesus Christ, God the Father, and the Holy Spirit are with us here on Earth. Yet things we know and experience here are certainly different than the heavenly perspective. Life on Earth is downstairs from heaven, just like I was downstairs from where I would prefer to be, which was with my friends in Christ in the sanctuary.
I've always been a dreamer. Some of my dreams related to my love of sports. God used this to draw me to Himself. Many athletes communicated the gospel to me. As a result, I began to communicate the great and mighty love of Jesus back to athletes as I became more mature in Christ.
In 1978, my buddy, Billy, and I were able to go to the first-ever Independence Bowl game. Billy looked around and noticed who else but John Wayne passing out carnations to the disabled people at the game that day! One of the questions he was asking people in the crowd was, "Are any of you smoking? If you are, please stop! I am a living example of how dangerous it is!"
When he finally got in front of Billy and me, he asked us the same question. We both shook our heads "no."
(I was so excited to meet Mr. Wayne!)
I said, "Mr. Wayne, may I ask you a personal question?" He said, "Sure, go ahead. Shoot straight." So I asked, "My Wayne, do you know Jesus Christ as your Savior?" He replied, "I sure do! And I'm going to see him very soon!"
He died shortly after that in 1979.
God has blessed me with many wonderful life stories. So as I sit here on Earth and look out into the distance where the land meets the sky, for now I won't call Earth the bottom of the stairs and heaven where Jesus resides the top of the stairs, because He is above me, but He's also within me.
I want to encourage you to consider meditating on Philippians 2, counting others better than yourselves. This is a worthwhile lesson to learn at the bottom of the stairs.